KittenBot Micro:bit Weather Station Educational Kit
Inspire a class of young engineers by bringing data and science into the classroom. Students will build a cool Weather Station to explore structural thinking, programming knowledge, and data analysis. They will complete the construction of the machine and pass the test results in the real environment and record the data changes. They will be able to fully understand the scientific process of meteorological monitoring and the corresponding problem-solving ability. The project disassembled the weather station in 5 chunks, a total of 9 lessons, and served 20-40 students.

Designed for above 5th grade classrooms, it includes a micro:bit controller, sensors for monitoring the environment, and building block parts for building a weather station. Explore STEM topics through project-based learning while aligning with Next Generation Science Standards (NGSS). This is an excellent educational product for  teachers,classrooms and maker spaces.
Features
It can monitor real environmental meteorological data, closely connected with life.

Based on building blocks, the weather station can be split into different small parts, teaching step by step.

Teacher guide with lesson plans to simplify the burden of teaching for teachers.

Online introduction video, articles for extended learning, digital downloads, and more

Skills: Hands-on skills, Programing thinking, Engineering Process

Concepts: Wind Direction, Wind Speed, Rainfall, Light Intensity, Temperature, Humidity.
Parameter
Controller

micro:bit V2

Power Supply

Type-C USB (5V) /  Power Supply from the 18650 Lithium Battery of the Expansion Board(7.6~8.4V)

Operating Voltage

IO Port 3.3V Maximum 40mA; Motor Servo Interface Maximum 1A

Kit Size

325 × 242 × 70 mm

Weight

900 g

Kit List

micro:bit V2 *1

SugarBox Expansion Board *1

18650 Lithium Battery *2(Assembled in SugarBox)

Sugar ENV1 Sensor *1(Temperature and Humidity)

Sugar ENV2 Sensor *1(Air Pressure and Altitude)

Sugar Hall Sensor *1

Sugar Grayscale Sensor *1

Sugar Light Sensor *1

Sugar ASR Module *1

Sugar I2C Hub *1

Ultrosonic Sensor *1

OLED Module *1

Building Blocks 260pcs

3D Printed Part

Module Wires(3PIN *4, 4PIN *5)

USB Cables(Type-C *1, microUSB *1)

Mini Compass

Program Platform

MakeCode
What can it do?
We provide 8 functions to students fully experience the working process of the weather station. In classroom, we can disassemble the parts of the weather station according to the single function as below.
Project Sample

Introduction

Light Intensity

Measure real-time sunlight intensity value by Sugar Light sensor

Weather Data

Use Sugar ENV1 and ENV2 modules collect local temperature, humidity and air pressure values.




Wind Speed

The simple wind-receiving structure drives the magnet to rotate, the Sugar Hall module detects the number of times the magnet passes, and calculates the wind speed.





Wind Direction

Use the Sugar Grayscale sensor to detect the sticker marked with 8 gray scale intervals, and judge the current wind direction according to the different marked positions where the arrow stays.

Rainfall

The change in water level is measured by ultrasonic waves, and the amount of precipitation in the past hour is calculated.
Teaching Guide
| | |
| --- | --- |
| Lesson | Content & Target |
| 1~7 | Learn how to use each of the sensor modules in the kit and how the weather station parts they make up work |
| 8 | Experience the application of the ASR module and use it as a smart voice assistant to talk to it, such as asking about temperature, humidity, etc. |
| 9 | Integrate all learned functions to finish a complete weather station project |
View full details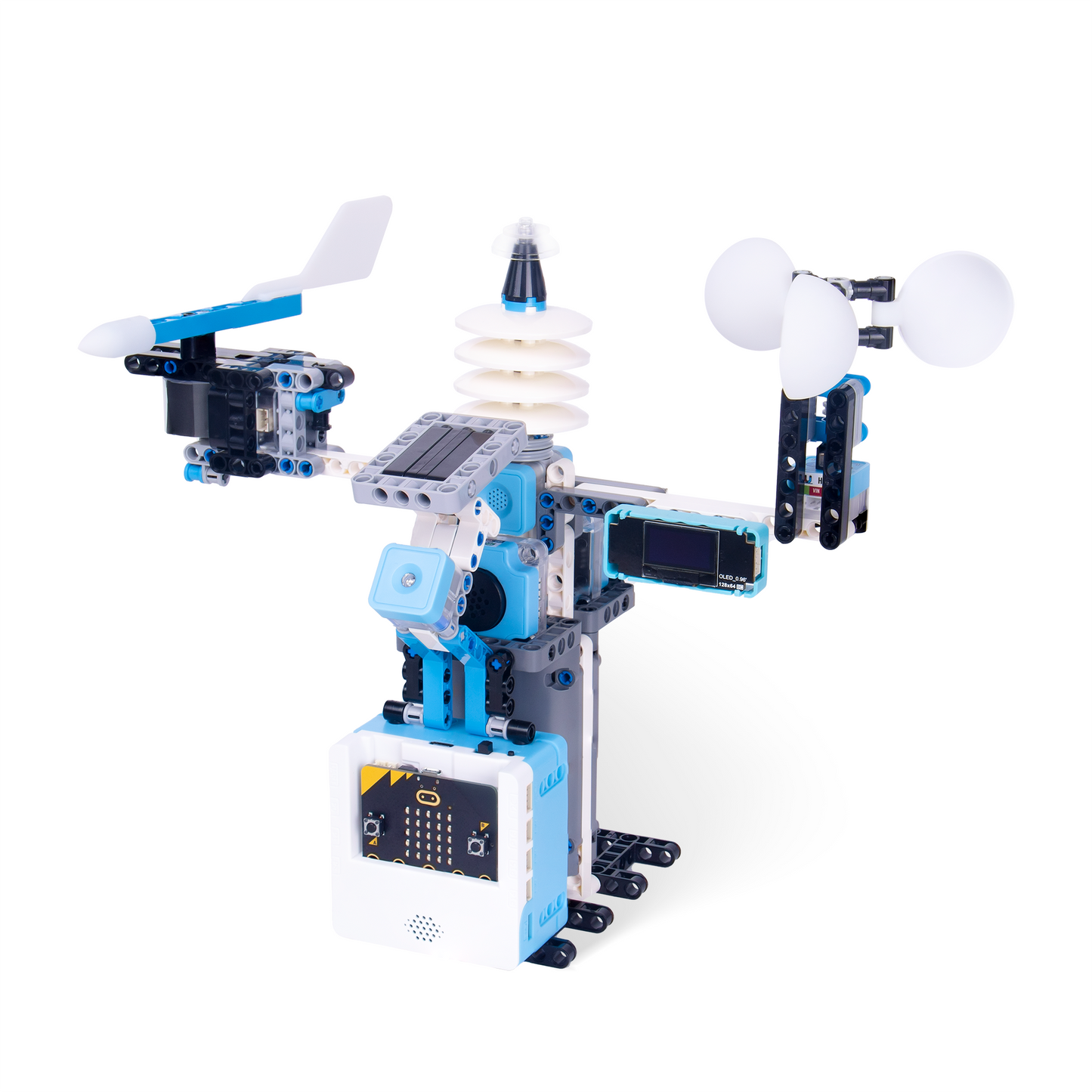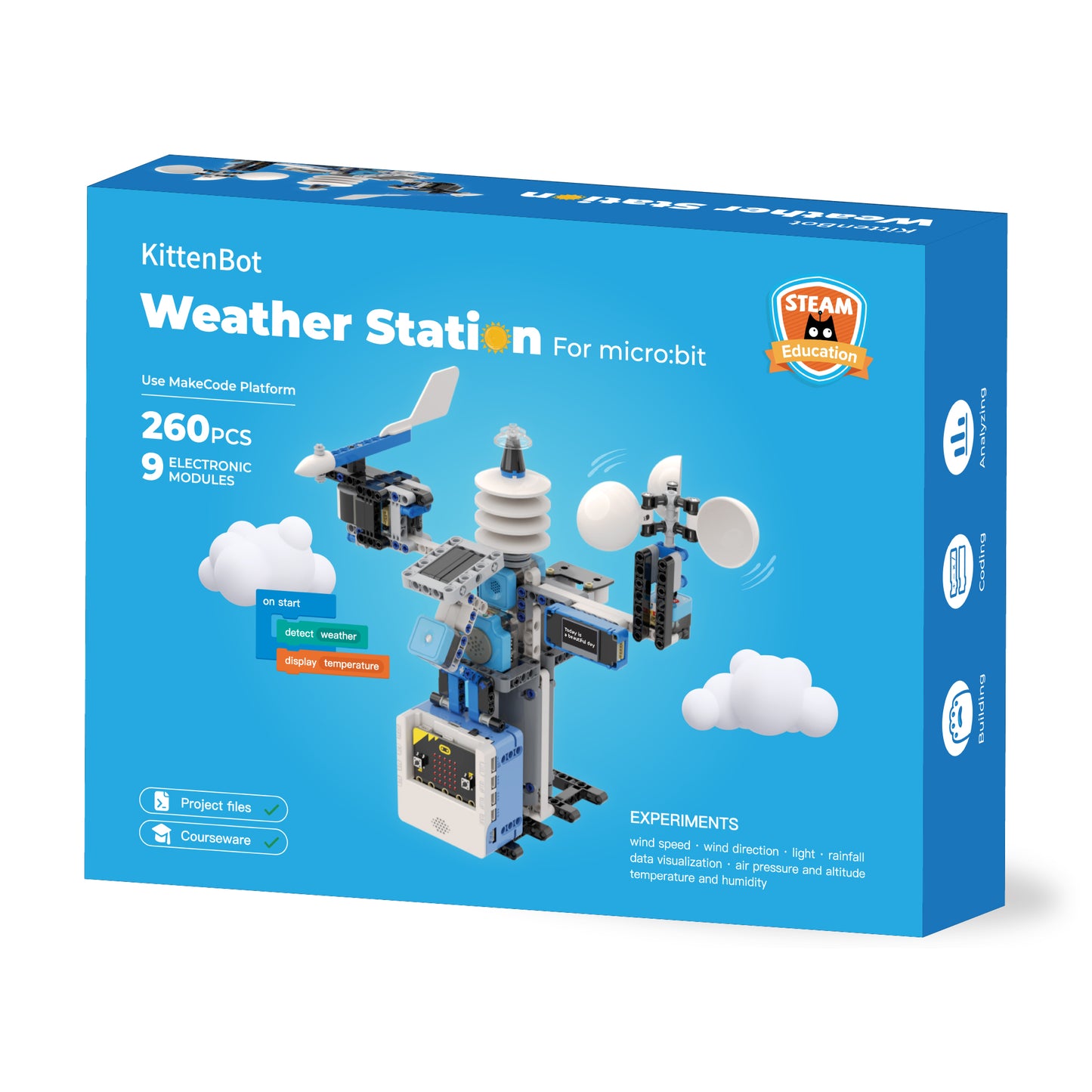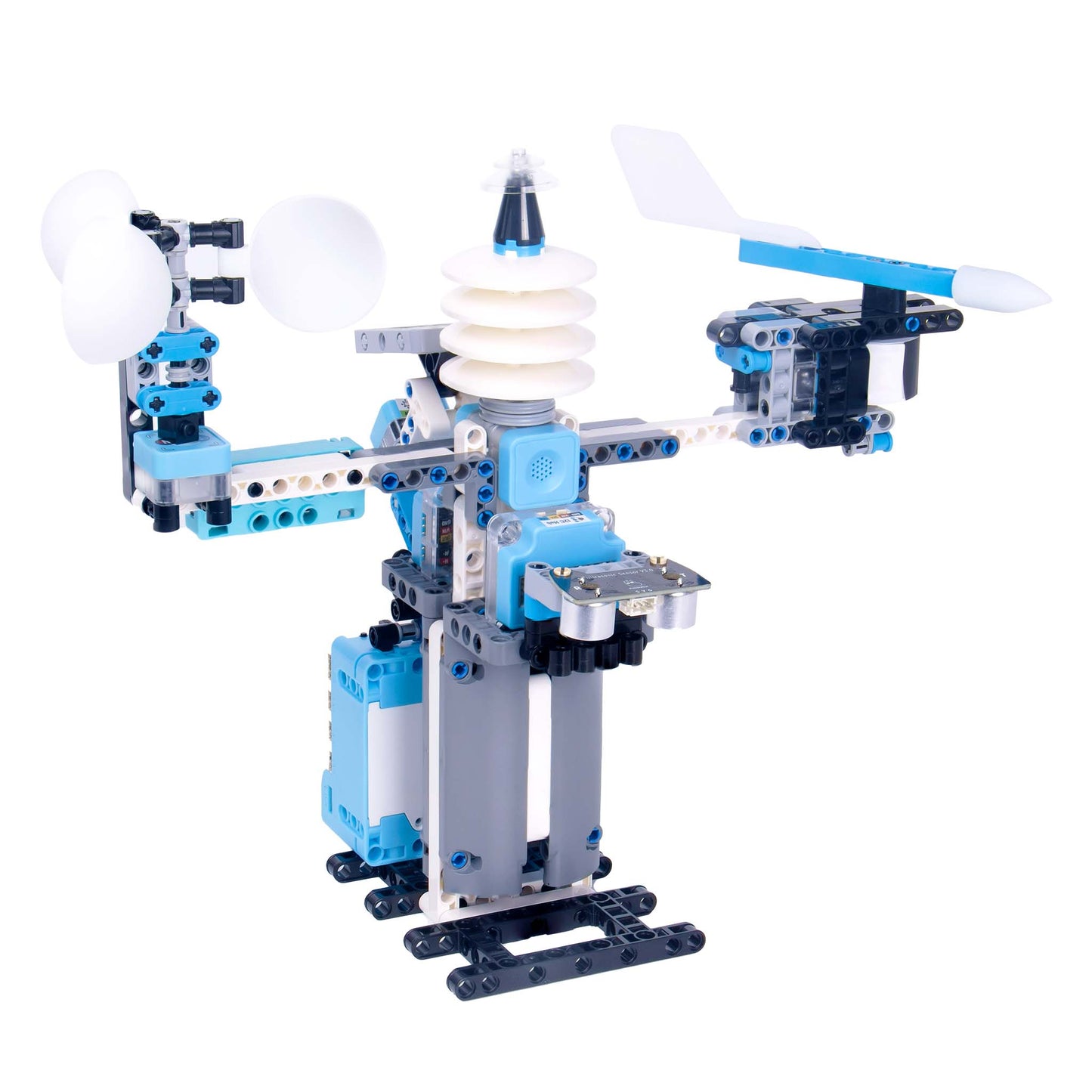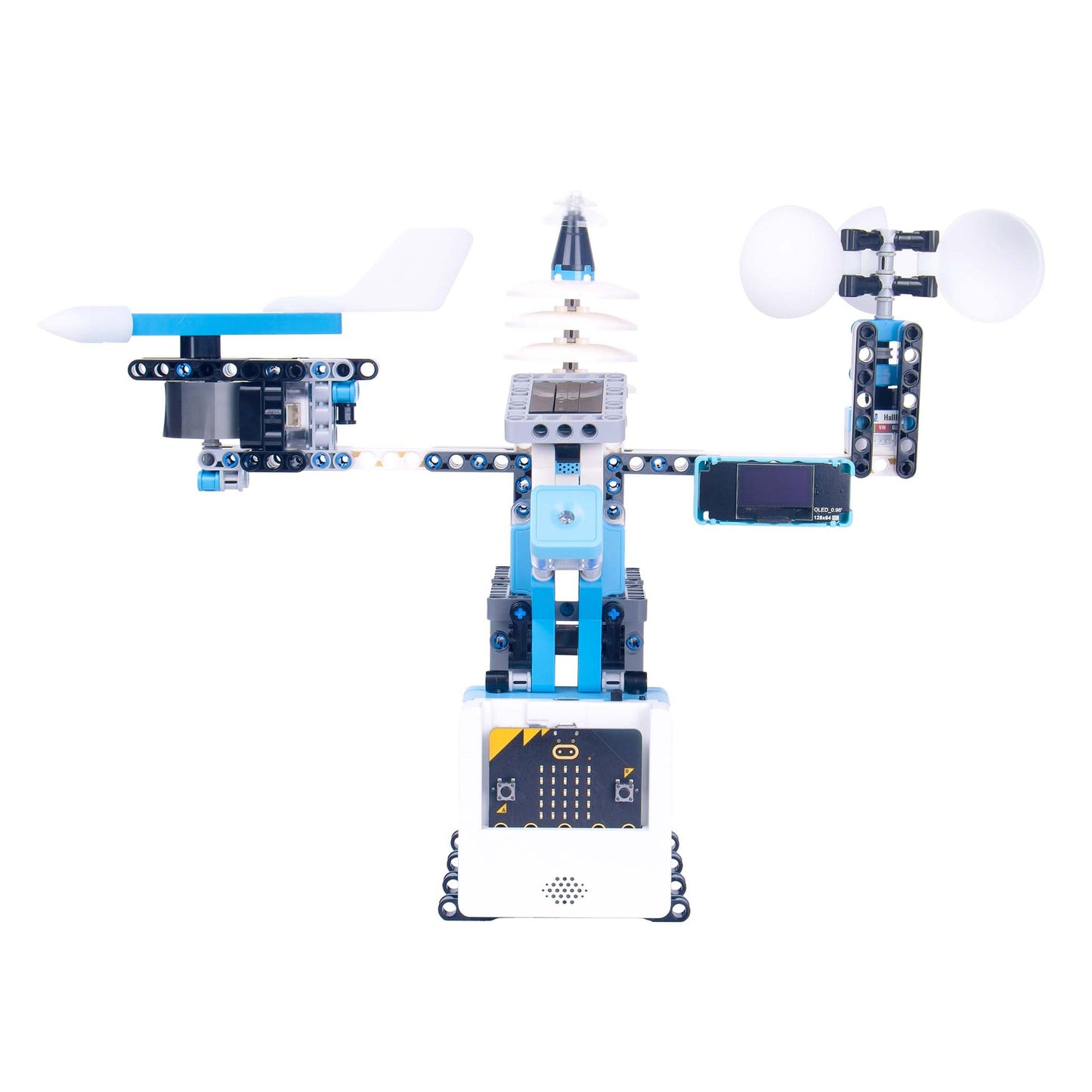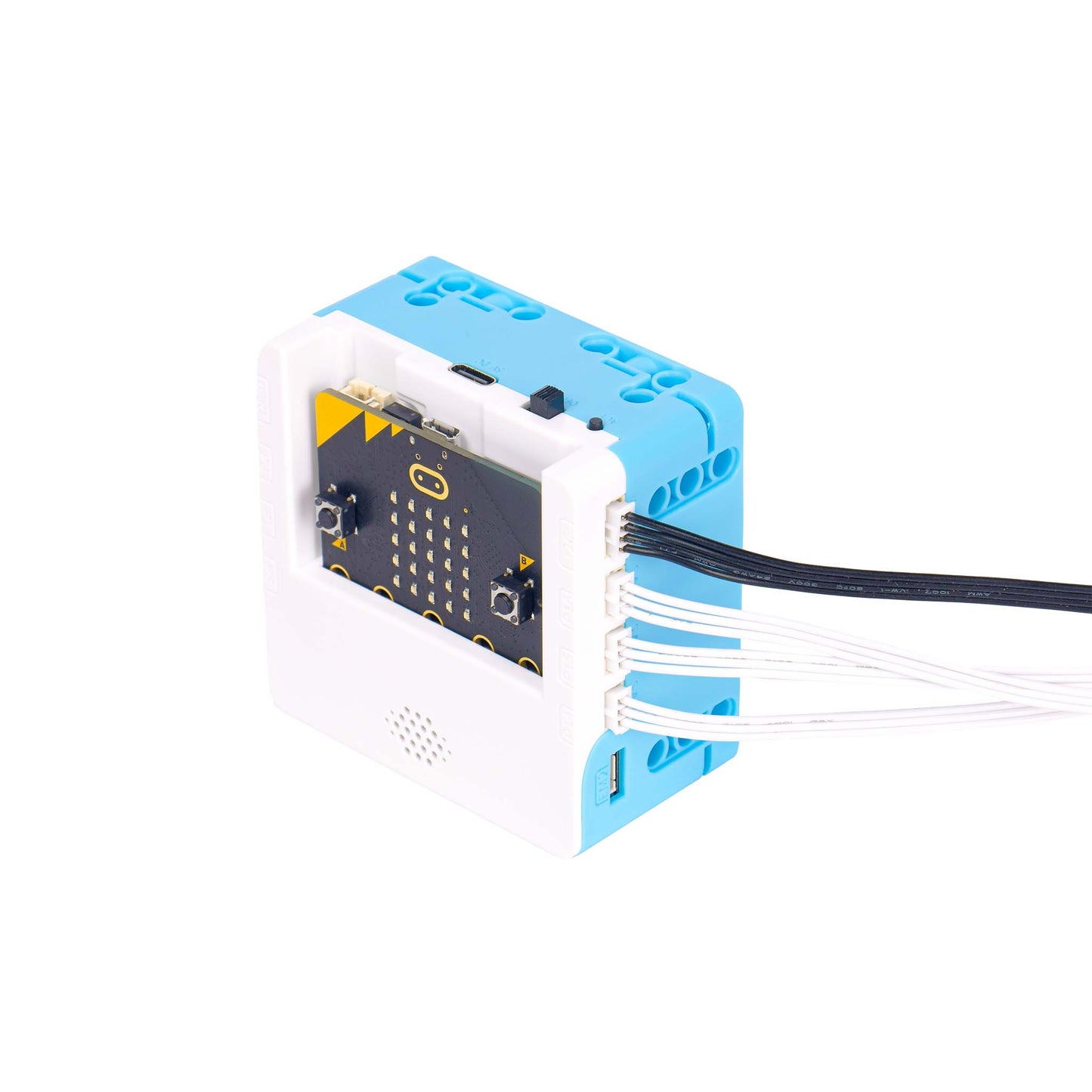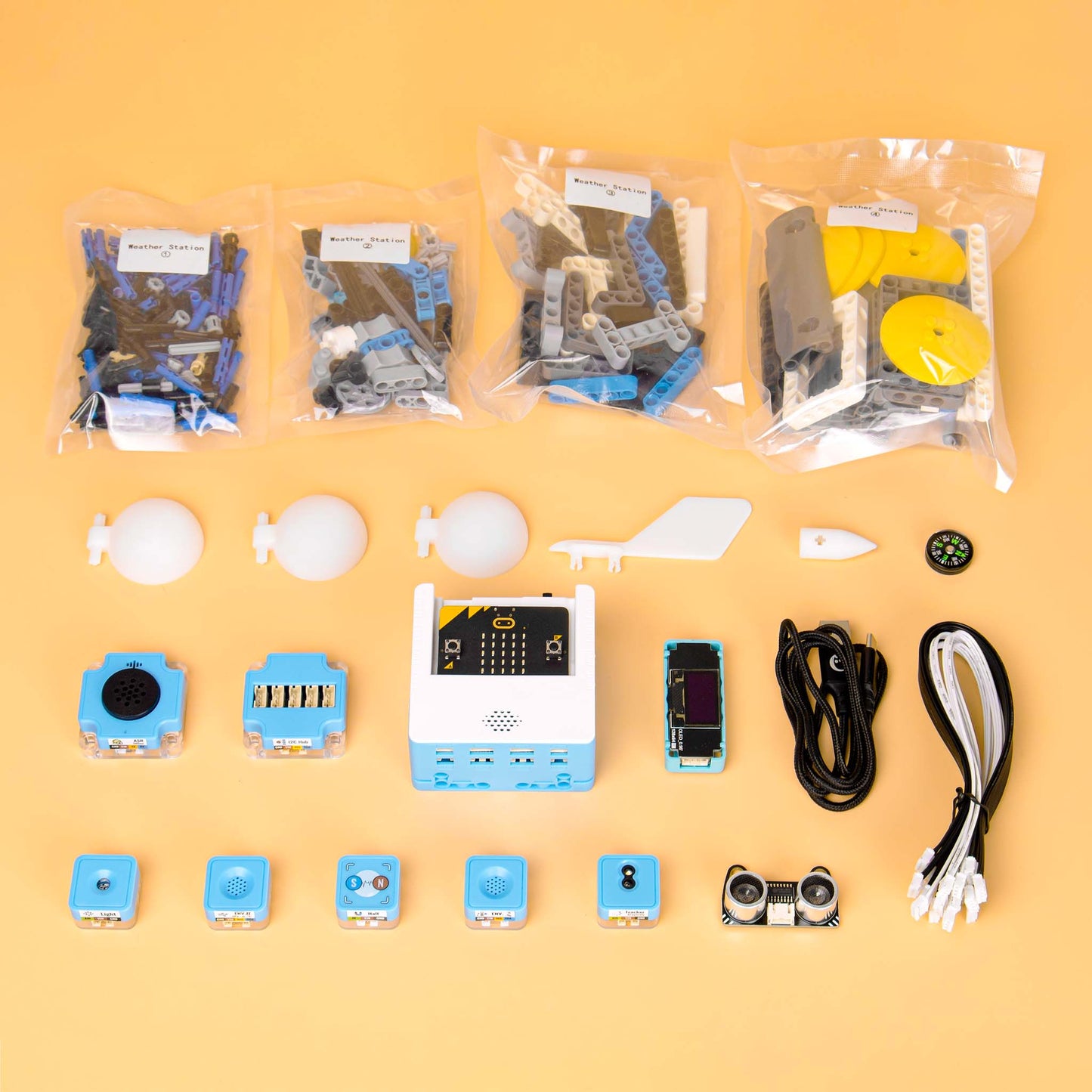 KittenBot Micro:bit Weather Station Educational Kit