KittenBot Sugar Series - Automatic Speech Recognition Module Electronic Buzzer
The Sugar Automatic Speech Recognition (ASR) module is specially designed for schools and can be used offline. The length and width of the module are both of 5 Lego units. The 4 holes at the corners allow compatibility with building bricks and the installation of M4 screws.
This module comes with a built-in speaker which makes speech recognition possible within 5 meters.
The standard PH2.0 4PIN serial port in the Kittenbot system is adopted in this module to communicate with the mainboard.
It supports 3.3V~5V power supply; with the external battery port, it also supports the lithium battery power supply from 3.7V to 4.2V.
The built-in bi-colour (red &green) LED indicates the condition of the module.
A Sugar LED module can be connected to this module through a PH2.0 3PIN port to be turned on and off.
A standard 2P 2.54 port can be used to control the on and off and the speed of a motor.
A 3P 2.54 port can be used to control a servo to turn from a certain angle to another.
This ASR module also performs simple broadcasts with content like time, weather, and date. 
Voltage

3.3V-5V

(5V is recommended for better performance)

Current

When under 3.3V, the peak current is around 600mA; When under 5V, the peak current is around 400mA

Dimensions

40×40×17mm with 4 LEGO holes

Configuration 

Built-in Speaker & Built-in Microphone

Built-in Resources

Bi-colour LED (red & green),

A PH2.0 3P LED port (Maximum current cannot exceed 50mA),

A 2P 2.54 motor port (Maximum current cannot exceed 200mA),

A standard 2.54 servo port (Maximum current cannot exceed 300mA),

Power Supply Port

3.7~4.2V Lithium Battery Port / 4PIN port (3.3~5V)

Communication Protocol

Serial port, baud rate 115200


Mainboard Support

Future board (program with the Scratch-based Kittenbot programming platform);

micro:bit;

Arduino

Number of Default Built-in Commands

62

Number of Default Built-in Commands to Wake the Module

3

Number of Built-in Voice Reading
32
Connecting to a mainboard, this module is able to broadcast numbers, time, date, etc.
This module can be programmed with the Scratch-based programming platform Kittenblock. Built-in speech recognition and synthesis blocks can be found on this platform directly.
Like other modules in the Sugar Series, the length and width of this module are both of 5 Lego units. LEGO bricks can be conveniently inserted into this module.
With no need to connect to an external microphone or speaker, students can focus more on learning programming. Speech recognition within 5 meters can be realized with the voltage of 5V; the speaker is tiny and loud.
View full details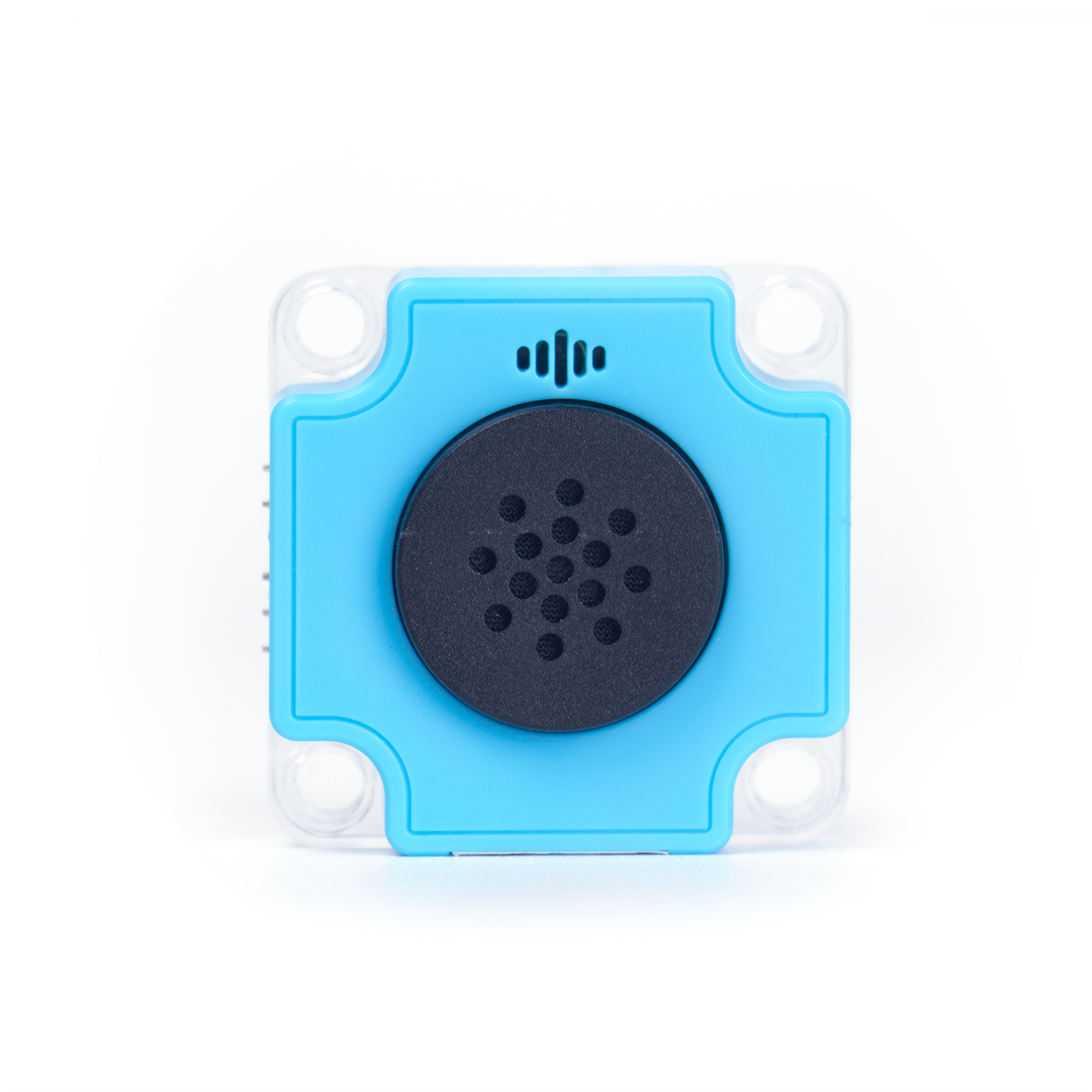 KittenBot Sugar Series - Automatic Speech Recognition Module Electronic Buzzer