KittenBot Grey Geekservo 9g Servo for micro:bit/ Arduino
This is a small servo compatible with Lego Technic parts, the output axle is compatible with Lego technic axles. It is suitable for models requiring precise movements such as joints, doors or cranes.
Specifications
Operation Voltage: 3.3V~6V

Rated Voltage: 4.8V

Rated Current: 200ma

Blocked Rotor Current: 700ma

Slipping Current: 450ma

Maximum Torque: 500g/cm(4.8V)

Rotational Speed: 60°/0.12s

Rotational Range: -45°~225°

Weight: 12.4g
Precautions
This is a small servo only, do not use it for models that require high torque.

Servos should not be connected in the wrong way, please pay attention when connecting a servo.

Do not block the rotor for prolonged periods of time or it may damage the motor.
Dimensions:
In LEGO units:
Length: 5

Width: 2

Height: 3

Output Axle: Technic Axle
In mm units:
Length: 40mm

Width: 16mm

Height: 34.4mm

Output Axel: Technic Axle
Geekservo Features
Clutch Protection:

In case of violent turning of the output axle, the clutch is enabled to protect the gears from damage.

Flexible Installation:

Can be mounted on standard Lego bricks or with Technic elements, providing a lot of possibilities for installation.

Small and lightweight:

Suitable for small robotic projects.
Connection
RobotBit
Connect the servo to the servo ports of the Robotbit (from S1 to S8).
Orange

 

to

 

Yellow

,

 

Red

 

to

 

Red

,

 

Black

 

to

 

Black

.
View full details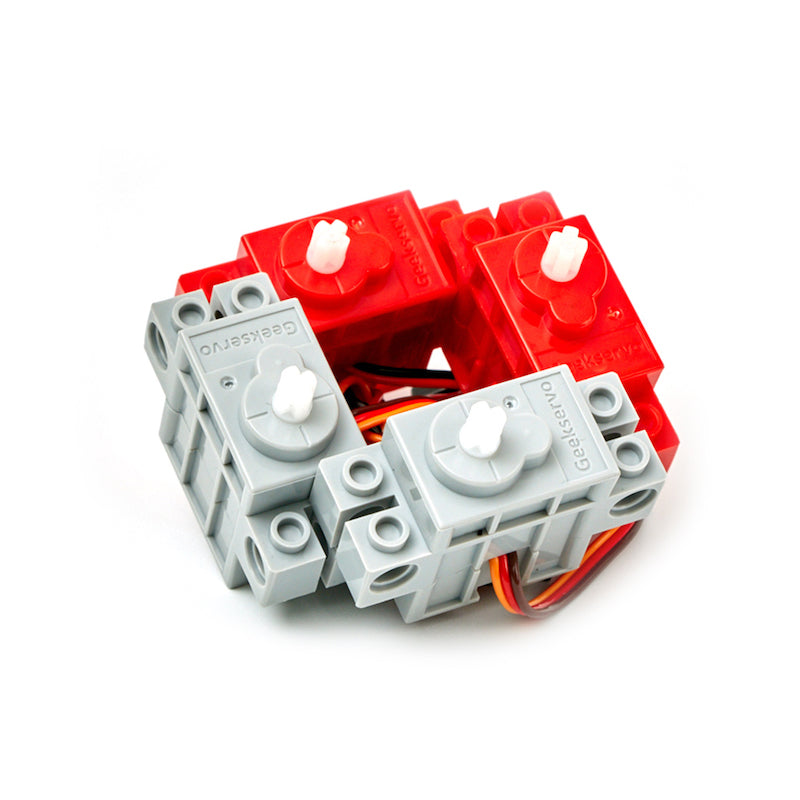 KittenBot Grey Geekservo 9g Servo for micro:bit/ Arduino